A new study from NerdWallet Health reports that female physicians receive approximately half as much money from Medicare as male physicians. Medicare reimbursements to male doctors average $118,782 per year, which is 88 percent more than the average annual Medicare reimbursement to female doctors of $63,346. NerdWallet conducted its research using CMS's 2012 Provider Utilization and Payment Data: Physician and Other Supplier Public Use File, which contains information on use, payment, and submitted charges and based on information from CMS's National Claims History Standard Analytic Files. The data NerdWallet used covers calendar year 2012 and contains 100 percent final-action physician/supplier Part B non-institutional line items for the Medicare fee-for-service population. According to CMS, the data may not be representative of a physician's entire practice as it only includes information on Medicare fee-for-service beneficiaries, and the data is not risk-adjusted to account for differences in underlying severity of disease of patient populations.
NerdWallet speculated a number of variables that may affect this pay disparity, most of which highlight other gender gaps. First and foremost, male physicians treat an average of 513 Medicare patients each year, or 60 percent more than female physicians, who treat 320 patients on average. A greater number of patients translates to a larger reimbursement. However, after accounting for patient volume, NerdWallet found that men make 24 percent more per patient than women doctors. Once again, an explanation for part of the discrepancy is that male doctors bill more services per patient than females, and Medicare's fee-for-service payment system rewards doctors for providing more services–furthermore, NerdWallet's calculations showed that the service-per-patient discrepancy was consistent across specialties.
Other variables mentioned by NerdWallet include men working more hours than women, and more men than women in the high-paying specialties like cardiac, orthopedic, and neurosurgery. They speculated that the discrepancy could also be related to geography, if female physicians are more likely to practice in lower-paying areas; care setting, if women are more likely to be hospital-based; coding variations, if female doctors perform less highly-reimbursed procedures; and missing data, if women are likely to perform a greater number of procedures for a small volume of patients.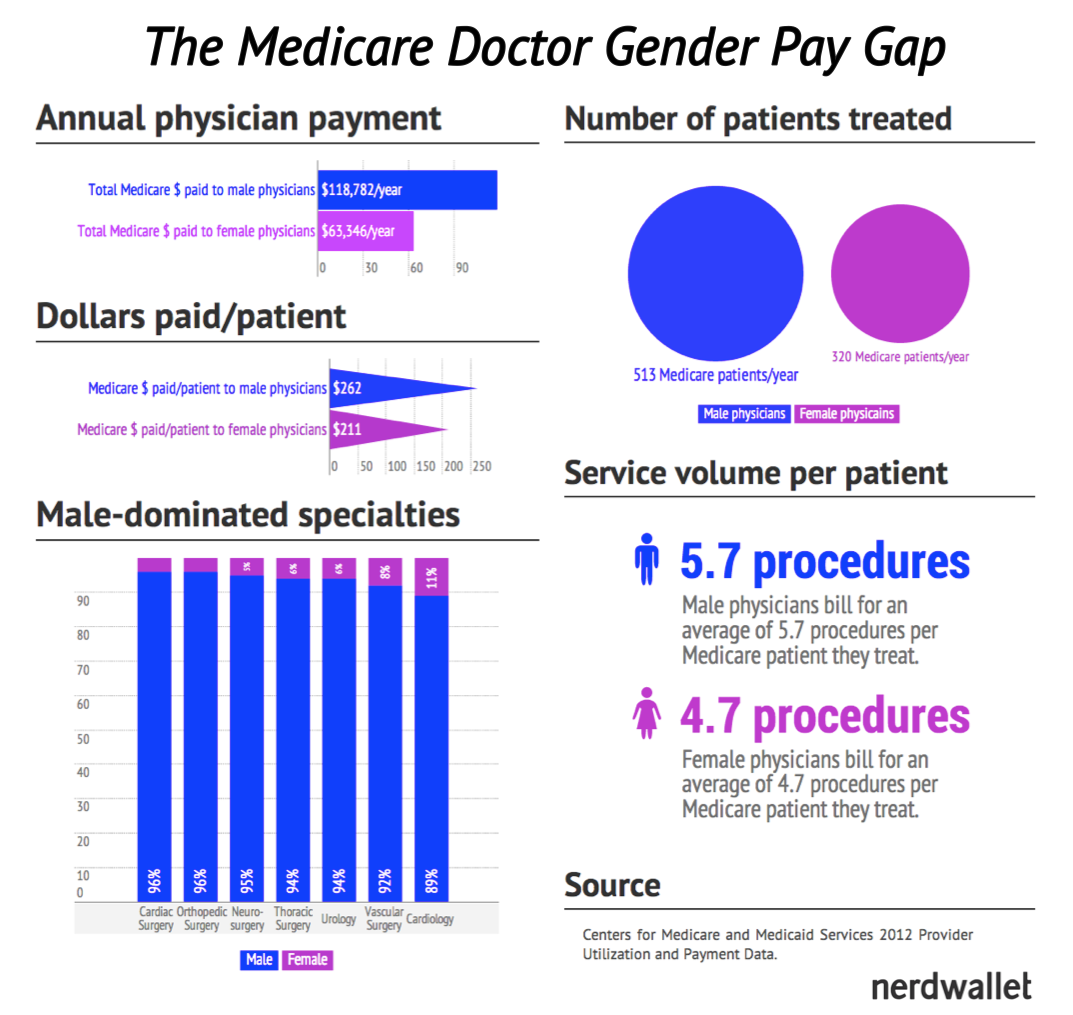 Via: NerdWallet Health
These figures do not cover a physician's entire compensation. In addition to Medicare reimbursement, physicians receive compensation from other sources, including Medicaid and private insurance. Female doctors may treat a lower percentage Medicare patients than males. However, even considering the potential reasons that women receive a lower reimbursement from Medicare, this study comes during an Administration push to close the gender gap in pay, and will raise questions about whether gender plays a role in physician pay.